Royal Orchid Bar and Grille Restaurant
Welcome to the new Royal Orchid Bar and Grille restaurant. We are located at 1200 North Westshore Boulevard in Tampa Florida. We attract customers for our combination of great Pan Asian food and a cozy, yet fashionable, dining area. Conveniently located next to the airport and various offices makes it easy to come and enjoy lunch. The menu features a wide range of dishes, including several Thai, Chinese, Indian, Japanese, New Zealand and American hybrids.
Our restaurant features a variety of succulent dishes which includes Lamb Rogan Josh, Chicken Vindaloo, New Zealand Lamb Chops, Butter Chicken, Chicken Tikka Masala, Thai Chicken Curry, Basil Ginger Chicken, Fresh Grilled Salmon, Blackened Fillet of Tilapia, Palak Paneer, Dal Makhani, and much more. Try our full bar with some famous drinks including the Sunshine State Margarita, Bahama Mama, Raspberry Martini, Mango Peach Mojito, Merlot, Chardonnay, imported and domestic beers, shots and shooters, and much more
Join us today for a dining experience like no other!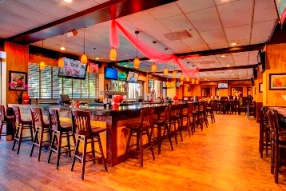 Thai Chi Curry
Chicken 65
Hot Beef Pastrami
New Zealand Lamb Chops
Tandoori Murgh
Shrimp Fried Rice
Naan
Chicken Chow Mein